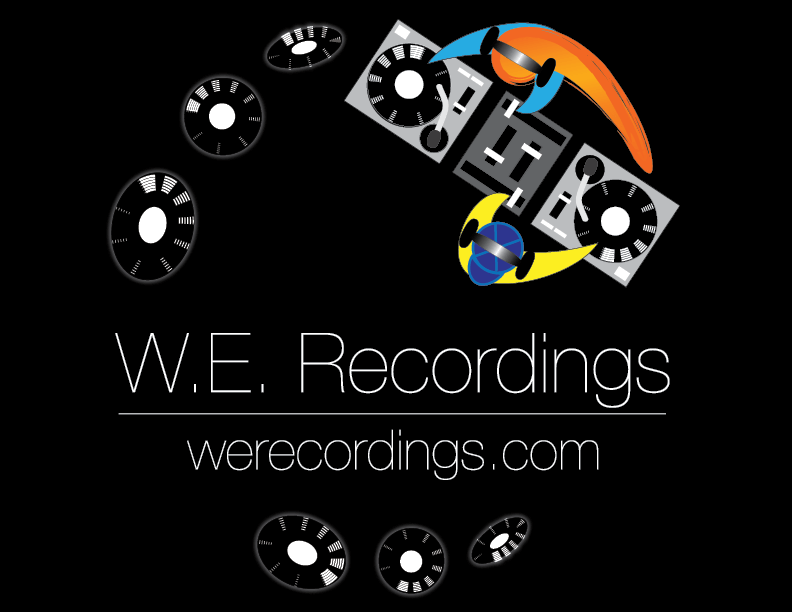 Project: Develop a brand identity and design branded marketing for an independent record label.
Role: Graphic Artist / Marketing Manager / Creative Director / Web Designer
Tools Used: Adobe Creative Suite: Photoshop, Illustrator, InDesign, Dreamweaver, Wacom Tablet, MacBook Pro
Description: Branding - As a nod to vinyl records, a black background was used with thin white text whenever it could be large enough to remain legible. The logo included simple illustrations of the label owners playing records on turntables as records flew around them. Alternate versions of the logo with black text and adjusted logo elements were made to use for lighter backgrounds and various merchandise.
Advertising - Merchandise and music releases were the products W.E. Recordings provided that required graphics; I created a cafepress page for the merchandise which included branded apparel and other accessories. The music release art was featured on the W.E. Recordings website and was also distributed with the digital music files delivered to retailers such as Beatport, iTunes, Amazon Music and more. I also created event advertising for radio shows and musical performances we would host from the twin studios of W.E. Recordings.
Web Design - I designed the first version of werecordings.com in June 2007 with HTML, using Notepad and Dreamweaver CS3. Later on in October 2009, research revealed more users were accessing the website on mobile devices, so I taught myself CSS to create a responsive redesign of the entire website using HTML and CSS in TextEdit and Dreamweaver CS5. In May of 2010, the redesign went live; additional features of the redesign included social media plugins, a release art slideshow, printable recipes, detailed artist pages, responsive CSS-styled discographies and music listings.
Results: This long-term project was quite successful and I gained a lot of invaluable experience throughout the process. Although W.E. Recordings ceased doing business in 2015, the website continues to receive traffic. As of June 2016 when I archived it to my design portfolio, werecordings.com had reached over 7.3 million views.